Building an Autobiography
Subtitled:
What is the Legacy YOU will Leave?
Presenter: D. A. Sharpe
Saturday, December 2, 2017
TodayŐs program for the Ephraim M. Daggett Chapter #36 of the Sons of the Republic of Texas gives focus to the historical and genealogical reasons for our existence as an organization. Our interests and knowledge of history naturally swells in comparison to the average Ňman on the street.Ó We have proven our genealogical direct family connection to a citizen of the Republic of Texas! We, therefore, have reason to give excellence to how we approach history and genealogy.
Each of we chapter members here already has established the legitimate ties we have, personally, to the significance of the Republic of Texas that fared in the 1836-1845 era of Texas history. Many of us can trace our family legacies back even more generations. In many cases, studying those early generation of our families may show occasions when people of historical significance were in our family or were people who crossed paths with our family members.
Learning of and documenting about these stories in written form is a legacy we can leave our children and grandchildren. Additionally, other people interested in history or genealogy may wish to review your stories.
It is to this end that YOU are being encouraged today to consider compiling in readable form your ancestral stories.
My personal motivation to do this was prompted as I realized that the stories and information I knew of my immediate family, both older and younger, were virtually all in my memory. I possessed only a negligible amount of written material from my parents, and no material from my grandparents, or any other close relatives. There was a collection of photographs, which helped memories. It dawned upon me that my task would be to research these stories, to study this ancestry, and to organize it in written form to leave as a legacy for my family, and for the future generations not yet born!
This written work has taken the form of an autobiography in which the saga of my familyŐs journey and the ancestry information are compiled in a work covered in 74 chapters. What is being shown to you today is a development in modern digital book publishing. No hard copy book is planned. The whole work is available online. In my case, access is at no charge. Other publications in the future, as the practice evolves will, no doubt, have facility to require financial charge for access to written materials.
What is contemporary today to book publishing online is the ease of navigating through the document with ŇFind commandsÓ and hyperlinks. What I think may be the most useful characteristic is the ability to embed hyperlinks!
Hyperlinks are an online technical tool that allows you to mark a word or phrase in your text that will enable a reader to click elsewhere to read more information, if desired. For example, mention of a publicly known person may have a hyperlink going to a Wikipedia biographical sketch presentation. Or the name of an institution, such as a university, or a historical community, can flip over to a history and other information about it.
Often, itŐs useful for a hyperlink to switch over to a genealogical relationship chart. For example, how am I related to Alfred the Great? The chart shows how Alfred is the 7th great grandfather of the 14th great grand uncle of the husband of Alice Carpenter, my 7th great grandmother!
To give you an idea of the power of imbedding hyperlinks, my estimated 500-page autobiography contains some 800+ hyperlinks that optionally take the reader to a total of over 13,000 additional pages! Of course, no one would open all of those hyperlinks and pages, but the usable thing is that each reader will want to make use of a few of those hyperlinks to get more information he or she would like to see.
It can be seen how one personŐs autobiography, making connections to many elements in our culture and stories, can represent being truly an encyclopedic endeavor. At this point, letŐs go through some of the projections from the autobiography to illustrate this technique of authorship.
The stories of my family are a result of gathering data over a 40-year period, resulting in a genealogical database of over 9,000 relatives! This autobiography is not so much about me. My importance is somewhat negligible. The importance of this autobiography is to highlight the unusual number of well-known people who are related to our family, or whose paths have crossed in our family in significant ways.
It is my privilege to be a fifth-generation Texan. My great, great grandfather, Judge Felix Benedict Dixon, immigrated from Ohio to Texas in 1841, when Texas still was the Republic of Texas. Judge DixonŐs parents had come from West Virginia. My lineage also has roots going back in America as a sixth-generation United States citizen, his being an American Revolutionary soldier. Lt. George P. Sharp, of the New York Militia, is my 3rd great grandfather. GeorgeŐs grandfather, Jacob Scherp, migrated in 1710 to New York Harbor among a group of some 3,000+ German Palatines, settling north from there on the Hudson River, establishing Germantown, NY.
Finally, English family connections make me a 10th generation American. Plymouth Colony Gov. William Bradford, who came with the 102 Pilgrims on the Mayflower to Boston Harbor, establishing Plymouth Colony in 1620, is my 7th great grandfather. The historical genealogical roots of my life were of European, English and Scandinavian origins.
I have lateral (cousin) genealogical relationships to 17 of the 45 U.S. Presidents and seven of the Vice Presidents. A relationship claim can be made for the first six U.S. Presidents, and all four of the U.S. Presidents sculptured onto Mount Rushmore. The only two father/son pairings of men who were elected President were the John Adams family and the George Bush family, all four of which are cousins to me.
John Quincy Adams is the only President to serve in Congress after his Presidency. Another cousin President, William Howard Taft, is the only person ever to have served both the office of President and the office of Chief Justice of the Supreme Court. Younger former President Bush visited me, following my heart surgery in 2012 at Presbyterian Hospital in Dallas, TX. Another Presidential cousin,
My family was interwoven with the famed American families of the RockefellerŐs, J. P. Morgan, the KelloggŐs (cereal people) and one of the KelloggŐs was a Nobel Peace Prize winner. The KelloggŐs have a descendant who died in the Alamo fighting. He is John (Johnny) Benjamin Kellogg, my half sixth cousin, twice removed. Cousin Willis Sharpe Kilmer owned the 1918 winning horse of the Kentucky Derby! George Eastman of Kodak fame is a cousin. He was not guilty of having a negative attitude! He pressed forward to see what developed!
One focus sought to highlight in my ancestry is the elements of Christian faith that could be documented among my relatives. Being a man of Christian conviction to center in my life and that of my familyŐs life, has made this background information a matter of importance. In 591, English King Ceawlin, received Christian Baptism. He is the earliest member of my family's ancestry that claimed Christianity, over 1,400 years ago. Pope Gregory had sent a missionary from Rome circa 591, named Father Columba. King Ceawlin is the 35th great grandfather of Edward Southworth, a British upper class noble whose first wife was Alice Carpenter. After Edward died, Alice went to the New World, to the Plymouth Colony at the beckoning of the Colony's Governor, William Bradford.
Isaac Watts, known as the English Father of Hymnody, was a close live-in friend of our Abney family, Lord Mayor of London, Sir Thomas Abney, circa 1700.
My most distant direct relative is Gor Thorrasson, my 38th great grandfather and a 7th century Norwegian Viking living in the 600Ős. His line comes down through my motherŐs Abney line. Here is itŐs genealogical report, which is 469 pages long!
My most distant lateral relative is Godwulf, a figure in ancient Anglo-Saxon royal genealogies, born about 80 AD. Godwulf is the 34th great grandfather of the 14th great grand uncle of the husband of Alice Carpenter, my 7th great grandmother. It is Godwulf through whom both our daughter and son-in-law are related as 34th cousins, four times removed! Their ancestor in common is Halfdan Vanha Sveidasson! HereŐs a six page summary of those family connections.
Of the 72 Kings, Queens and Rulers in England from 519 AD on to today, there are 63 (88%) of them to whom our family has cousin relationships. In fact, the well-known King James, whose name is associated with the first English translation of the Bible, is my 22nd cousin, 11 times removed!
Queen Elizabeth II, who has been English Queen for most of the lives of readers today, is my 33rd cousin, twice removed. Currently she is both the longest living and longest reigning monarch of England in all its history.
What is being shown to you on the projection screen today is the skeleton of my autobiography, showing you the organization structure of how such a document is compiled.
How to write a book will be reviewed for you, in the sense of what elements need to be in a book. YouŐll be shown various examples of how the flow of the story progresses and how hyperlinks can function to reveal even more information.
As a help to any wishing to review this presentation, The
autobiography is accessible at:
http://www.dasharpe.com/Autobiography.html
The actual program outline is at:
http://www.dasharpe.com/Autobiography/YourLegacy.htm
<![if !vml]>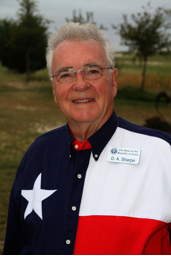 <![endif]>
805 Derting Road East
Aurora, TX 76078-3712
817-504-6508
Facebook: Dwight Albert Sharpe