D. A. Sharpe
Aurora, Wise County, Texas
Biographical sketch for Political constituencies
<![if !vml]>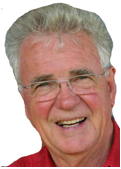 <![endif]>
Dwight Albert Sharpe seeks roles to serve in the political arena of life, based upon his Christian faith's responsibilities.  Isaiah 33:22 exhorts, "For the Lord is our judge, our lawgiver and our king."  We derive the three parts of our American government from this verse.  The judge is representative of our courts, the lawgiver is our Congress and Legislatures, and the king is our President, Governor, Mayor, etc.  The verse Ecclesiastes 10:20 does exhort us not to make light of the king (criticize the political leader), but rather to pray for them, regardless of what opinion we might have of a political leader.
Mr. Sharpe is a fifth-generation Texan, born 1939 in Ballinger, Runnels County, Texas. His family has been in Texas since 1841. He has lived in Texas of his life, except for 20 years in Louisiana (1962-72) and Missouri (1972-82).
Mr. Sharpe serves or has serves on all four levels of government. He was appointed in September 2012 to the Selective Service Board in North Texas, a Federal agency. He was an Official of the State of Texas, having been appointed by the Governor and confirmed by the Texas Senate to serve, served for two 3-year terms before stepping down in October 2016, on the Texas Board of Examiners of Dietitians, one of the professional licensing boards of the State. He is a county official as Chairman of the Wise County Ballot Board, which oversees elections. He is a city official serving as Chair of the Historical Preservation Commission of the City of Aurora, where he is a resident in Wise County. All these positions are unpaid voluntary activities and for which no expenses are reimbursed.
His political service for the Republican Party of Texas dates back to 1982 where in Dallas County he served as a Precinct 2225 Chairman and Election Judge in University Park and later in North Dallas. He has been elected a delegate to the Texas State Republican Party Convention every even numbered year since 1988, except for 1990, when he was in Europe and in 2012 when he was in surgery!  (Former President George W. Bush dropped by his hospital room for a brief visit).  He and Suzanne are Delegates in June 2018 to the Republican State Convention in San Antonio, which is the 14th time to be State Delegates since 1988.
His earlier Republican political assignments began in Saint Louis County, Missouri as an Election Judge (beginning in 1974) and Hadley Township Convention Chairman. He was elected a delegate to the 1978 and 1980 Missouri State Republican Conventions. In 1966, while a resident of New Orleans, Orleans Parish, Louisiana, his local voting precinct poll was in his home on Claiborne Avenue @ Broadway.
In 1999, Mr. & Mrs. Sharpe moved to Aurora, Wise County. In 2000, he was elected Chairman of the Wise County Republican Party, and again in 2002, 2004 and in 2006. In 2008, he stepped down to encourage new and younger leadership in the local party, which was a successful transition.
He has been Delegation Chairman for Wise County at the State Republican Conventions several times, and has been Chairman or other leadership position in the Convention State Senate Caucus meetings, 2000 - 2016. He currently is active with the Wise County Republican Party and assists with the administration of the Wise Republican Women.
At the Republican State Convention June 7-9, 2012 in Fort Worth, Texas, he was elected an Alternate Delegate from Congressional District #12 to represent Texas at the Republican National Convention in Tampa, Florida. At the time, he became the first person ever elected from Wise County to be represented in the Texas delegation at a National Republican Convention. He was present at that Convention to see the unveiling of the Clint Eastwood infamous Empty Chair skit! Clint is a distant cousin!
<![if !vml]>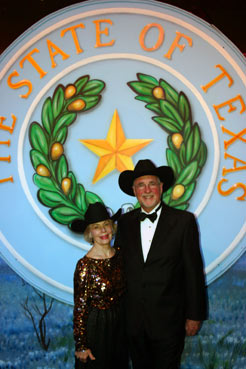 <![endif]>Both Mr. & Mrs. Sharpe attended the Presidential Inaugurations of President Bush in 2001 and 2005, as well as President Obama's in 2009.  In each of those Inaugural seasons were participants in the Black Tie & Boots Ball of the Texas State Society of Washington, D.C., of which they are annual members. 
His political motivation is that our nation would be returned to that phrase in the Declaration of Independence, We hold these truths to be self-evident, that all men are created equal, that they are endowed by their Creator with certain unalienable Rights, that among these are Life, Liberty and the pursuit of Happiness. Our founders recognized that we need to acknowledge our Creator. The attempts of modernists in the past century have tried to steer us into a secular society. It is one that seeks to accomplish good and governing without the presence of God. It has been a moral failure, in the eyes of many.
<![if !vml]>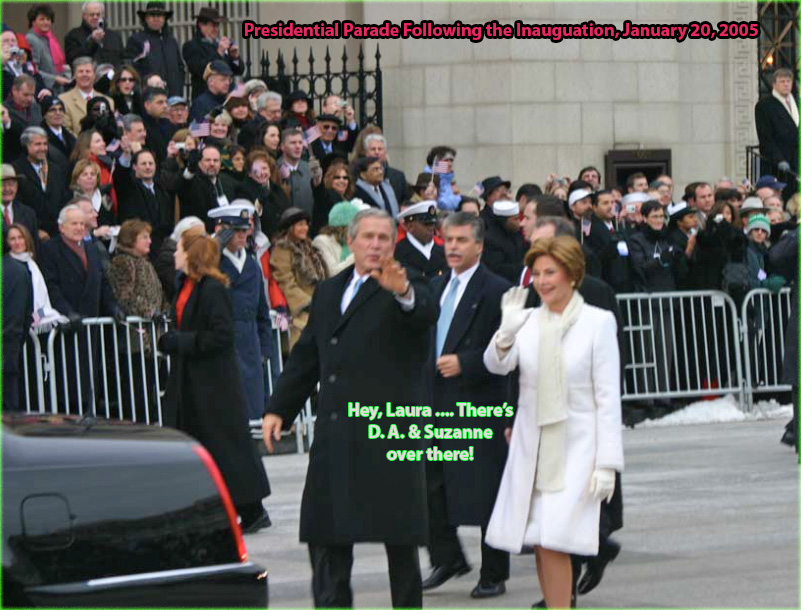 <![endif]>
The Article I of the Constitution states, Congress shall make no law respecting an establishment of religion, or prohibiting the free exercise thereof; or abridging the freedom of speech, or of the press. Everyone knows Congress cannot establish a religion, but that Amendment often is not read completely. Notice that Congress may not prohibit the free exercise of religion. Mr. Sharpe believes that means the laws cannot dictate that public expression of prayer, for example, be removed from the public arena, such as high school football game, etc.
Mr. Sharpe learned in his role as Chairman of the Wise County Republican Party 2000-2008 that part of the responsibilities was to mentor and inform candidates running for political office.  Various training tools were developed then and have been refined further in more recent times. 
A special class was created at the request of one of his teenage granddaughters, which is displayed here.  Subsequently, Mr. Sharpe developed an eleven-chapter course on government structures, how they operate, how people in the structures get there, and how can citizens be participative in various aspects of the governance of our nation.  Here is that course.
James Madison, who later became President of the United States, took copious notes of the debates Constitutional Convention, and had much to do with fashioning the wording of the Constitution. Madison's important contribution to the overall creation of the Constitution earned him the nickname "Father of the Constitution" later in life. He is the 32nd cousin, once removed to Mr. Sharpe. Madison is the 3rd cousin, seven times removed to Steve Westmoreland, the son-in-law of Mr. Sharpe.
Texas Governor Rick Perry (currently the U.S. Secretary of Energy, serving President Donald Trump) commissioned Mr. Sharpe in 2004 as an Admiral in the Texas Navy. Texas Admirals often affiliate with the Texas Navy Association, the historical educational organization promoting knowledge about the Texas Navy of the Republic of Texas 1836-1845, as well as other Texas Navy Squadrons. Mrs. Sharpe (Suzanne Margaret Boggess Sharpe) was commissioned an Admiral in the Texas Navy by Governor Gregg Abbott in 2013. 
Mr. Sharpe is a 1957 graduate of Woodrow Wilson High School in Dallas, Texas; he attended Austin College in Sherman, Texas 1957-1959 and is a 1962 BBA graduate of the University of Texas at Austin.  He's expected to be scheduled in the 2018-19 school year at Austin College to be a guest lecturer from the course materials composed for political involvements by citizens and the need for their understanding government structures.
He and his wife, Suzanne, raised two sons and a daughter. Their children are third generation graduates from the University of Texas in the family, both of their Sharpe grandparents having graduated in 1925 and in 1926. They enjoy seven grandchildren among their children, 24 great nieces and nephews and seven great, great nieces and nephews (who are eighth generation Texans).
Mrs. Sharpe, also in active in political service, has served as election clerks, as President of Wise Republican Women, the Wise County affiliate of the Texas Federation of Republican Women.  She currently serves WRW as its Secretary.
Mr. and Mrs. Sharpe are members of Eagle Mountain International Church in Fort Worth. They reside on 10 acres in Aurora, Wise County, Texas. His hobby is the pursuit of genealogy and the study of history. Other biographical sketch information is available on the Who is "D. A. Sharpe?" page.
Suzanne Boggess Sharpe
805 Derting Road East
Aurora, TX 76078-3712

817-504-6508
Facebook:
<![if !vml]>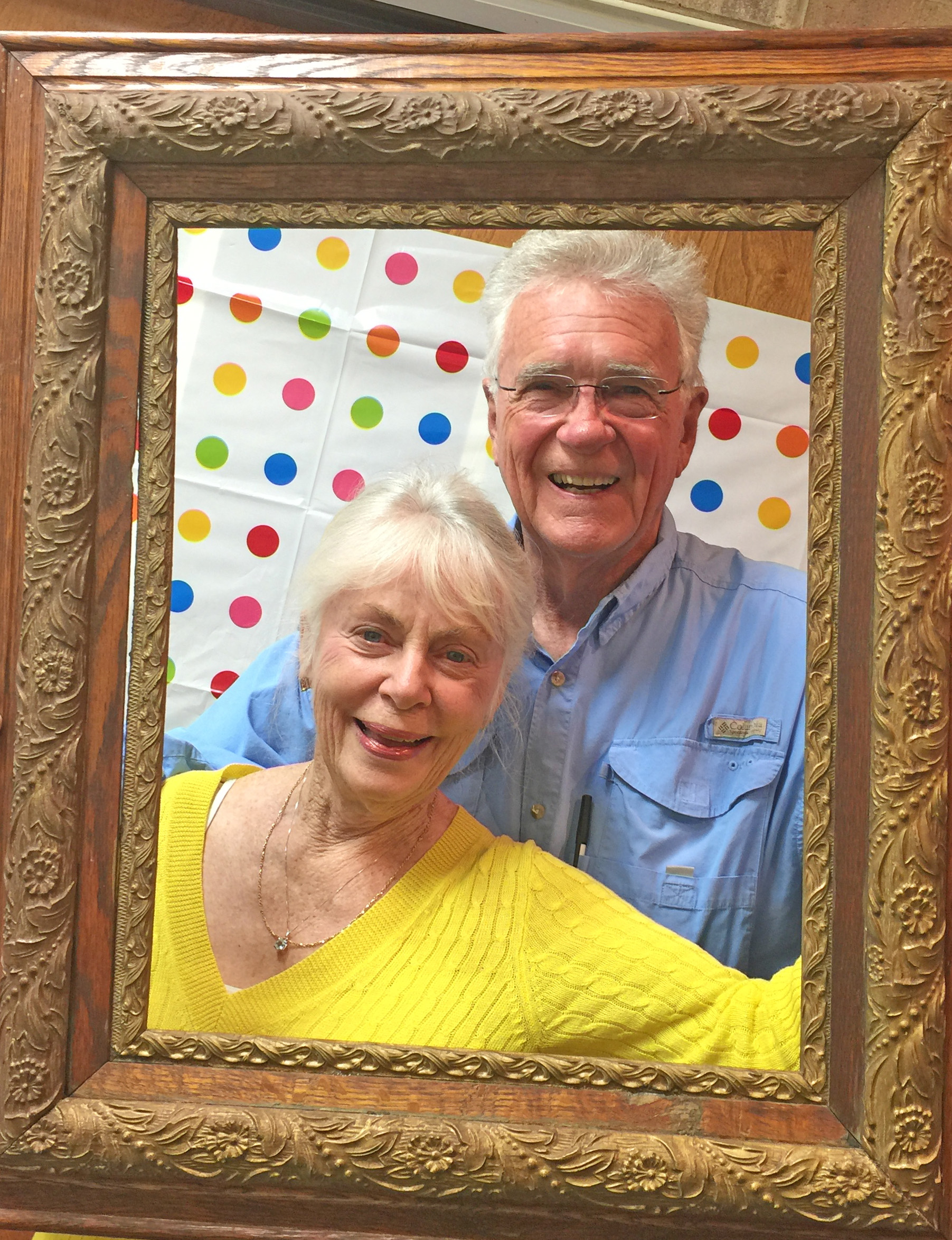 <![endif]>  Dwight Albert Sharpe