Vice President Charles Curtis
Compiled by D. A. Sharpe
<![if !vml]>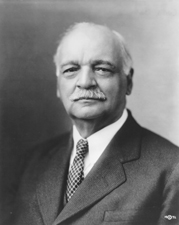 <![endif]>Charles Curtis is my half sixth cousin, twice removed. Our connection of common ancestry is through the Kellogg family. Charles is the fifth great grandson of Joseph Kellogg (1626-1708). Joseph Kellogg, an English immigrant to America, is the seventh great grandfather of mine, through my father's Sharpe family line.
He was the 31st Vice President of the United States (1929-1933), having been nominated on June 16, 1928 by the Republican Party National Convention in Chicago. He served with President Herbert Hoover. It is of interest to note that Franklin Billings Kellogg, my half sixth cousin, twice removed, served Presidents Coolidge and Hoover as Secretary of State. Curtis and Kellogg are fifth cousins to each other.
Source:http://kinnexions.com/kinnexions/cousinsc.htm#RCheney
In 193Charles Curtis married Annie Elizabeth Baird (1860-1924). Their Christian faith was followed in the Baptist Church.
Charles was born the same year as was Annie Oakley (8/13/1860 -11/3/1926), the American markswoman who starred in Buffalo Bill's Wild West show.
Source:http://en.wikipedia.org/wiki/Annie_Oakley
With Charles Curtis' father being in the Missouri State Penitentiary and his mother dying in 1863, Charles Curtis was being raised in 1866 by his maternal grandparents on the Kaw Indian Reservation in Council Grove, Kansas. Curtis's grandmother, Julie Gonnville Pappan, was the granddaughter of White Plume, the Kansa-Kaw Chief who had helped Lewis and Clark as a guide for part of the way in 1804. Curtis grew up speaking Kaw and French before he learned English. He is 1/8th Indian blood (12.5%).
Source: "One-Night Stands with American History," Richard Shenkman &Kurt Reiger, Perennial Harper Collins Publishers, New York, NY, page241
"Charles Curtis was a Representative and a Senator in Congress from Kansas and a Vice President of the United States; born in Topeka, Kansas, January 25, 1860. He attended the common schools; studied law; admitted to the bar in 1881 and commenced practice in Topeka; prosecuting attorney of Shawnee County 1885-1889.
Curtis was elected as a Republican to the Fifty-third and to the six succeeding Congresses, serving from March 4, 1893, until January 28, 1907. He resigned, having been elected Senator. He served as chairman, Committee on Expenditures in the Department of the Interior (Fifty-fourth through Fifty-seventh Congresses); Curtis had been re-elected to the Sixtieth Congress, but on January 23, 1907, was elected to the United States Senate as a Republican to fill the vacancy in the term ending March 3, 1907, caused by the resignation of Joseph R. Burton. On the same day, he was elected for the full Senate term commencing March 4, 1907, and served from January 29, 1907, to March 3, 1913.
He was an unsuccessful candidate for reelection in 1912;. He served as President pro tempore of the Senate during the Sixty-second Congress; chairman, Committee on Indian Depredations (1905-11), Committee on Coast Defenses (1911-13), Republican Conference (1924-1929); again elected to the United States Senate for the term commencing March 4, 1915; reelected in 1920 and 1926 and served from March 4, 1915. His resignation was on March 3, 1929, having been elected Vice President of the United States. He had been the Republican whip 1915-1924; majority leader 1925-1929; elected Vice President of the United States on the Republican ticket headed by Herbert Hoover in 1928.
Curtis was inaugurated on March 4, 1929, and served until March 3, 1933; unsuccessful candidate for reelection in 1932 for Vice President; resumed the practice of law in Washington, D.C., where he died on February 8, 1936. His interment was in Topeka Cemetery, Topeka, Kansas, next to his wife."
Source:http://bioguide.congress.gov/scripts/biodisplay.pl?index=C001008
On November 27, 1884, Charles Curtis married Annie Elizabeth Baird] (1860Ð1924). They had three children: Permelia Jeannette Curtis (1886Ð1955), Henry "Harry" King Curtis (1890Ð1946), and Leona Virginia Curtis (1892Ð1965). He and his wife also provided a home in Topeka for his half-sister Theresa Permelia "Dolly" Curtis before her marriage. His wife died in 1924.
A widower when elected Vice President in 1928, Curtis had his half-sister "Dolly" Curtis Gann (March 1866 Ð January 30, 1953) act as his official hostess for social events. She had lived with her husband Edward Everett Gann in Washington, DC since about 1903. He was a lawyer, and at one time, an assistant attorney general in the government. Attuned to social protocol, Dolly Gann insisted in 1929 on being treated officially as the #2 woman in government at social functions, and the diplomatic corps voted to change a State Department protocol to acknowledge this while her brother was in office. To date, Curtis is the last Vice President to be unmarried during his entire time in office.
<![if !vml]>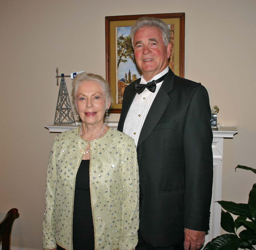 <![endif]>Compiled by
<![if !vml]>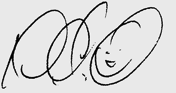 <![endif]>
Dwight Albert (D. A.) Sharpe
805 Derting Road East
Aurora, TX 76078-3712
817-504-6508