A Fun Eagle Scout Occasion
By D. A. Sharpe
My father-in-law, Thomas Shelton (T. S.) Boggess, Jr. was born March 30, 1912 in Texarkana, Bowie County, Texas. That was not his familyŐs home, but rather the home of his maternal grandmother. His mother had gone to be with her mother for delivery. The Boggess home was in small-town Macon (Noxubee County), Mississippi.
In 1926, T. S. earned his Eagle Scout rank, and thus became the first Eagle Scout ever in Noxubee County, Mississippi. That began a long line of Scouting accomplishments for the Boggess family.
<![if !vml]>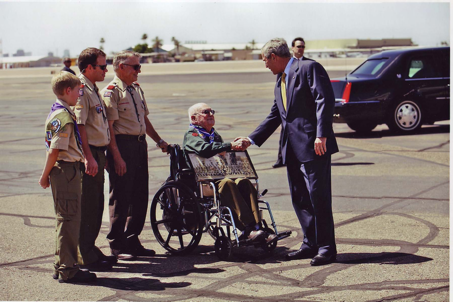 <![endif]>Interesting, the next three generations of Boggess sons were named the same name, with the various suffixes of III, IV and V. They, too earned their Eagle Scout ranks, a very honored achievement recognized widely in our American culture. It is a rank created in 1911, and 2016 estimates were that there are 55,186 Eagle Scouts today, and that in AmericaŐs history, there have been 2,429,979 worthy, hard-working boys who have earned that rank!
Being creative, as all the Boggess family seems to be, Tommy IV had an idea as they approached the time that his son, Tom V, would be awarded the Eagle Scout rank. Tom V would be the FOURTH GENERATION Boggess to earn it, and all four had the unique same name to share among themselves! It was early in 2008.
Tommy IV discovered that the National Offices of Boy Scouts did not keep records in a form that could be told how many 4-generation Eagle Scouts there were. A limited amount of research led Tommy IV to understand that there were a few 4-generation Eagle Scouts, but none existed where all four Scouts were living at the same time! As far as he could tell, these Boggess boys were the only 4-generation Eagle Scout family in America at that time.
Being creative, as already observed, Tommy IV wrote a letter to U.S. President George W. Bush, because heŐd heard that President Bush had a liking and admiration for Eagle Scouts. Tommy IV was asking whether there was anything the PresidentŐs Office could do in recognition of the only 4-generation Eagle Scout family, with all four still living! All four of the Boggess Eagle Scouts were residing in Arizona at the time.
Making a long story short, arrangements were made for the four Boggess Eagle Scouts to meet the President at the Phoenix airport when he was coming to make a political speech in the city. They all donned Eagle Scout Uniforms and met the President out on the tarmac when Air Force One landed.
<![if !vml]>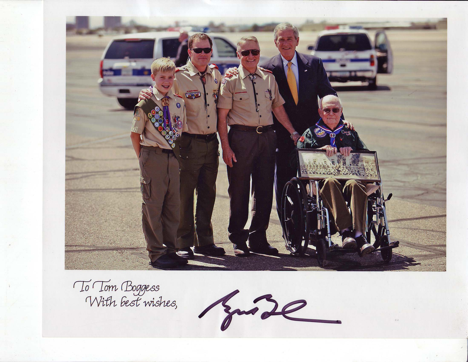 <![endif]>
The President came out to greet them and to heap praise upon them for this masterful accomplishment. He posed with them for photographic cause, and later returned an autographed copy for them.
Following the PresidentŐs departure into town for his speech, the Secret Service personnel took the Boggess Eagle Scouts on a tour of Air Force One. That included a couple of muscular Marines lifting and carrying my wheel-chair-bound father-in-law into the plane. It was a wonderful experience that all of them cherish. My father-in-law was age 96 at the time. Since then, he has graduated to Heaven in 2010. These are memories that the current family reveres, and that it is expected that the descending family will appreciate in the years to come.
<![if !vml]>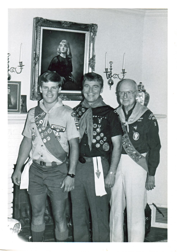 <![endif]>
HereŐs an earlier Eagle Scout photo when there were only 3 generations!
<![if !vml]>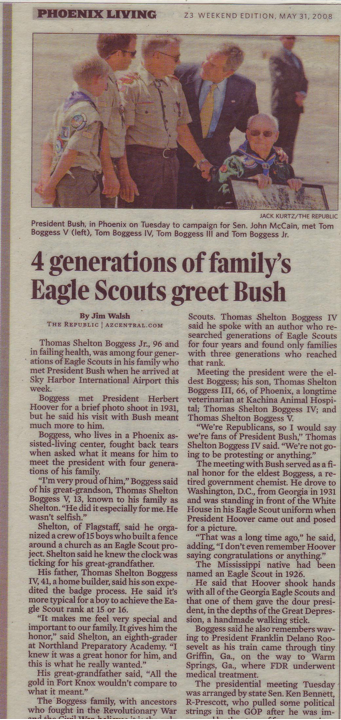 <![endif]>
Praise be to God for enabling such good experiences to be had for our family.
<![if !vml]>
<![endif]>Story Compiled by:
Dwight Albert (D. A.) Sharpe
Suzanne Boggess Sharpe
805 Derting Road East
Aurora, TX 76078-3712
817-504-6508