English King Edward VII
Compiled by D. A. Sharpe
<![if !vml]>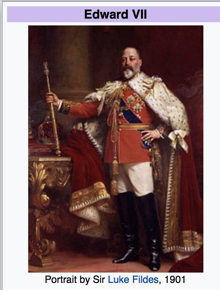 <![endif]>
Albert Edward (Bertie) is my 30th cousin, three times removed. Edward VII (Albert Edward; 9 November 1841 – 6 May 1910) was King of the United Kingdom and the British Dominions and Emperor of India from 22 January 1901 until his death in 1910.
Edward is the 8th cousin, six times removed of Edward Carleton, husband of Ellen Newton, stepdaughter of Danette Abney (born about 1712), my 6th great grand uncle.
The eldest son of Queen Victoria and Prince Albert of Saxe-Coburg and Gotha, Edward was related to royalty throughout Europe. Before his accession to the throne, he served as heir apparent and held the title of Prince of Wales for longer than any of his predecessors. During the long reign of his mother, he was largely excluded from political power, and came to personify the fashionable, leisured elite. He travelled throughout Britain performing ceremonial public duties, and represented Britain on visits abroad. His tours of North America in 1860 and the Indian subcontinent in 1875 were popular successes, but despite public approval his reputation as a playboy prince soured his relationship with his mother.
<![if !vml]>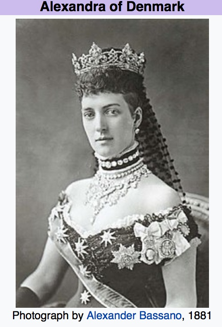 <![endif]>Edward's wife was Alexandra of Denmark (Alexandra Caroline Marie Charlotte Louise Julia; 1 December 1844 – 20 November 1925) was Queen of the United Kingdom and the British Dominions and Empress of India as the wife of King Edward VII.
Her family had been relatively obscure until 1852, when her father, Prince Christian of Schleswig-Holstein-Sonderburg-Glücksburg, was chosen with the consent of the great powers to succeed his distant cousin, Frederick VII, to the Danish throne. At the age of sixteen, she was chosen as the future wife of Albert Edward, Prince of Wales, the heir apparent of Queen Victoria. They married eighteen months later in 1863, the same year her father became king of Denmark as Christian IX and her brother was appointed to the vacant Greek throne as George I. She was Princess of Wales from 1863 to 1901, the longest anyone has ever held that title, and became generally popular; her style of dress and bearing were copied by fashion-conscious women. Largely excluded from wielding any political power, she unsuccessfully attempted to sway the opinion of British ministers and her husband's family to favour Greek and Danish interests. Her public duties were restricted to uncontroversial involvement in charitable work.
On the death of Queen Victoria in 1901, Albert Edward became king-emperor as Edward VII, with Alexandra as queen-empress. She held the status until Edward's death in 1910. She greatly distrusted her nephew, German Emperor Wilhelm II, and supported her son during the First World War, in which Britain and its allies fought Germany.
As king, Edward played a role in the modernization of the British Home Fleet and the reorganization of the British Army after the Second Boer War. He reinstituted traditional ceremonies as public displays and broadened the range of people with whom royalty socialized. He fostered good relations between Britain and other European countries, especially France, for which he was popularly called "Peacemaker", but his relationship with his nephew, the German Emperor Wilhelm II, was poor. The Edwardian era, which covered Edward's reign and was named after him, coincided with the start of a new century and heralded significant changes in technology and society, including steam turbine propulsion and the rise of socialism. He died in 1910 in the midst of a constitutional crisis that was resolved the following year by the Parliament Act 1911, which restricted the power of the unelected House of Lords.
<![if !vml]>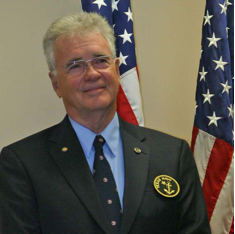 <![endif]>Compiled by:
Dwight Albert (D. A.) Sharpe
805 Derting Road East
Aurora, TX 76078-3712
Facebook: Dwight Albert Sharpe
WHO is D. A. Sharpe?
<![if !supportLineBreakNewLine]>
<![endif]>