English King Henry VIII
A narrative by D. A. Sharpe
King Henry VIII is my 20th cousin, 13 times removed. Our ancestors in common are Eystein Glumra Ivarsson and his wife, Aseda Rognvaldsdatter. They are the 18th great grandparents to Henry and 32nd great grandparents to me. Described another way, Henry is the 3rd cousin, five times removed from the stepdaughter of my 6th great grand uncle, Dannett Abney, born about 1712. They are ninth century Vikings from Norway. Here is a chart of our relationship.
Henry, born June 28, 1491, ruled England from April 21, 1509 until his death on January 28, 1547.
Herbert Pelham is the second great grandnephew of King Henry VIII. Herbert was the first Treasurer of Harvard College. He was my 24th cousin, 9 times removed! This is on my Mother's side of the family. Herbert also is the 11th cousin, once removed, of Edward Southworth, the first husband of my seventh great grandmother, Alice Carpenter, on my Father's side of the family, which descends from her second marriage to Plymouth Colony Governor William Bradford. Herbert is the third great grandson of Thomas Boleyn, the father-in-law of King Henry VIII. He was crowned June 24, 1509, the month and day that later would become my birthday.
On June 11, 1509, Henry married Catherine of Aragon. Marriage annulled in 1533. She was the first of six wives that Henry VIII married, a marriage that lasted 24 years. Henry VIII and Catherine were crowned King and Queen of England on June 24, 1509! That is my birthday, at least the month and day!
His subsequent marriages were to Anne Boleyn, (1533-1536, ending in execution); Jane Seymour (1536, died 1537); Anne of Cleves (1540, annulled 1540); Catherine Howard (married 1540, executed 1542; and finally Catherine Parr (married 1543, Henry died 1547). You might say that half of the woman marrying Henry were just dying to marry him! His last marriage was just Parr for the course!
<![if !vml]>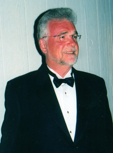 <![endif]><![if !vml]>

<![endif]>
D. A.
Dwight Albert (D. A.) Sharpe
805 Derting Road East
Aurora, TX 76078-3712
Cell Phone: 817-504-6508
E-mail: da@dasharpe.com
Website: www.dasharpe.com
Biographical
Sketch http://www.dasharpe.com/Bioskets/BiographicalHome.htm