English King John of Gaunt
Assembled by D. A. Sharpe
<![if !vml]>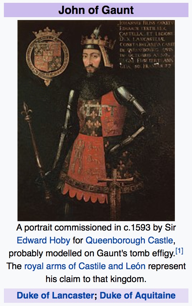 <![endif]>
John of Gaunt, the 1st Duke of Lancaster, was born March 6, 1340 at Ghent, Flanders (middle-western Europe). He was the third of five surviving sons of King Edward III of England. He died February 3, 1399 (age 58) at Leicester Castle, Leicestershire. He was buried March 15, 1399 at St. Paul's Cathedral, City of London.
https://en.wikipedia.org/wiki/John_of_Gaunt
John is my 15th cousin, 18 times removed. He is the second cousin, 10 times removed of Edward Southworth, the first husband of Alice Carpenter. She is my seventh great grandmother through her second husband, Plymouth Colony Governor William Bradford. Traced another way, John is my 7th great grandfather Dannett Abney (1659-1732).
"John of Gaunt, Duke of Lancaster was the third surviving son of KingEdward III of England and Philippa of Hainault. He gained his name"John of Gaunt," because he was born at Ghent in 1340. The fabulously wealthy Gaunt exercised tremendous influence over the throne during the minority reign of his nephew, Richard II, and during the ensuing periods of political strife, but took care not to be openly associated with opponents of the King.
"John of Gaunt's legitimate male heirs, the Lancaster's, included KingsHenry IV, Henry V, and Henry VI. John of Gaunt's illegitimate descendants, who ultimately became legitimate by his marriage toKatherine Swynford in 1396, the Beaufort's, later married into the House of Tudor, which ascended to the throne in the person of Henry VII. In addition, Gaunt's legitimate descendants included his daughters Philippa of Lancaster, Queen consort of John I of Portugal and mother of King Edward of Portugal, Elizabeth, Duchess of Exeter, the mother of John Holland, 2nd Duke of Exeter, and Katherine of Lancaster, Queen consort of Henry III of Castile, a grand-daughter of Pedro of Castile and the mother of John II of Castile.
"When John of Gaunt died in 1399, his estates were declared forfeited to the crown, as Richard II had exiled John's less diplomatic heir, Henry Bolingbroke, in 1398. Bolingbroke returned and deposed the unpopular Richard, to reign as King Henry IV of England (1399-1413), the first of the descendants of John of Gaunt to hold the throne of England. John of Gaunt was buried in the nave of Old St. Paul's Cathedral in an alabaster tomb designed by Henry Yevele (similar to that of his son in Canterbury Cathedral)."
Source:http://en.wikipedia.org/wiki/John_of_Gaunt%2C_1st_Duke_of_Lancaster
<![if !vml]>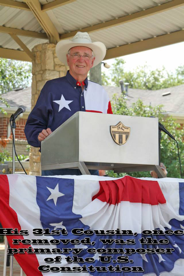 <![endif]>Composed by:
Dwight Albert (D. A.) Sharpe
805 Derting Road East
Aurora, TX 76078-3712
817-504-6508
Facebook: