John (Johnny) Benjamin Kellogg II
Compiled by D. A. Sharpe
John (Johnny) Benjamin Kellogg II is my half sixth cousin, twice removed. He is thought to have been born in Missouri in 1817. Our common ancestor is Joseph Kellogg (1626 - 1707). Joseph and his first wife, Joanne Foote, are my seventh great grandparents. Johnny is descended from Joseph through his second wife, Abigail Terry. They are Johnny's fifth great grandparents. Described another way, Johnny is the 4th great grandson of my 7th great grandfather, Joseph Kellogg.
Johnny joined the relief force from Gonzales and rode to the Alamo, where he arrived on March 1, 1836. He died in the battle of the Alamo on March 6, 1836. He was a Private rifleman in the Gonzales Rangers. In some of the quotes below, he is cited with suffixes to his name as "II" or "Jr." It is suspected that he should not have a suffix, per his descendent with whom I spoke in October 2006, Mr. M. Dennis Kellogg (who died about 2008).
Source:http://www.tamu.edu/ccbn/dewitt/gonzalesrangersf-k.htm
<![if !vml]>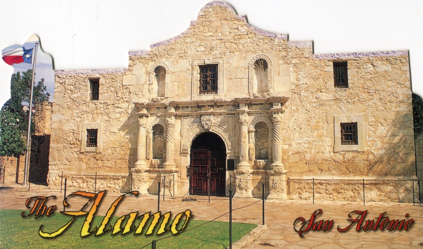 <![endif]>
"John Benjamin Kellogg II, 19 (age at the time of the Alamo siege), was born 1817 in Kentucky and a resident of Gonzales. Johnny was a Private rifleman in the Gonzales Rangers. His father, John Benjamin Kellogg I, who died Oct 1836, received Lots 4 and 5, Block 10 in inner Gonzales town on 25 Sep 1834. In 1835 John B. Kellogg II married Sidney Gaston (1816-1836) in Gonzales, the former wife of Alamo defender Thomas R. Miller and sister of John E. Gaston, who also died in the Alamo. Sidney Gaston was the daughter of Rebecca Warfield Gaston Davis and stepdaughter of George Washington Davis of Gonzales.
Pregnant Sidney Gaston Kellogg is thought to have left Gonzales in the Run Away Scrape with her in-laws, John B. Kellogg I and family. She lived with them in Washington County, Texas where she died six months later. Six days after John Kellogg II's death in the Alamo, Sidney bore her just deceased husband's son, John B. Kellogg III. John B. III was raised by his grandmother, Ms. John B. Kellogg I until she died in January 1838, at which time step grandfather, George Washington Davis, was named guardian. On January 5, 1839, George W. Davis was named administrator of the estates of his stepson, John Gaston, and Benjamin Kellogg by the probate court of Gonzales. In the 1850 census of DeWitt County, Texas, 13-year old John B. III was living with the George W. Davis family. Grandmother Rebecca died when John B. Kellogg III was ten, and step grandfather George Washington Davis died when he was 17. Author Tom Lindley in "Alamo Traces: New Evidence and New Conclusions," contends that Alamo Defender Johnny Kellogg died at Harrisburg in1836, just months after the Alamo battle. This may be John Benjamin Kellogg II's father of the same name who may have died at that time.
Source:http://www.tamu.edu/ccbn/dewitt/gonzalesrangersf-k.htm#kellogg
<![if !vml]>

<![endif]>
Dwight Albert (D. A.) Sharpe
805 Derting Road East
Aurora, TX 76078-3712
817-504-6508