Will Keith Kellogg
Compiled by D. A. Sharpe
<![if !vml]>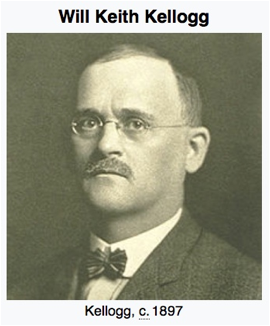 <![endif]>
Will Keith Kellogg, affectionately known as W. K., is my half-fifth cousin, three times removed. Our ancestor in common is Joseph Kellogg, Will's fourth great grandfather through Joseph's second wife, Abigail Terry. Joseph and his first wife, Joanne Foote, represent the line through which I descend. They are my seventh great grandparents.
Will Keith Kellogg was a businessman, and founder in 1906 of the Battle Creek Toasted Corn Flake Company (now the W. K. Kellogg Company). That's the cereal company that is famous on the shelves of America's grocery stores and around the world! He married Ella O. Davis.
Source: http://kinnexions.com/kinnexions/cousinsj.htm#FKellogg
"W. K. Kellogg started out selling brooms as a young businessman then moved to Battle Creek, Michigan to help his brother John Harvey Kellogg run the Battle Creek Sanitarium. There in one of the labs they produced the first flaked cereal. W.K. Kellogg saw this as a great business opportunity and wanted to keep the production of the product a secret, John Harvey disagreed and allowed anyone in the sanitarium to come see the flaking process. This allowed a fellow sanitarium guest, C. W. Post to see the process, thus inspiring him to start his own company, which became Post Cereals and later General Foods. C.W. Post then made his first million dollars off the sales of his new product; this upset W.K. Kellogg. who then left the sanitarium to create his own company."
<![if !vml]>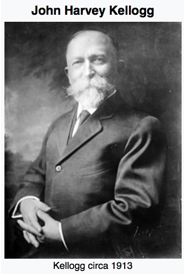 <![endif]>
Source: http://en.wikipedia.org/wiki/Will_Keith_Kellogg
"Will Keith Kellogg lacked a formal education beyond the sixth grade. When he died Oct. 6, 1951, at the age of 91, he had amassed a fortune and enriched the lives of people in his hometown, and millions of people around the world. Will Keith Kellogg, creator of the cereal company and the foundation that bears his name, led three professional 'lives' while making his mark on Battle Creek, Michigan and the world.
"The world-renowned benefactor and cereal industry leader began as a clerk at the Battle Creek Sanitarium, also known as the San. It was there, searching for a vegetarian diet for patients, that he discovered cereal flakes. His first job was as a stock-boy, followed by the life of a traveling broom salesman in his late teens. He finally went to work as a young man in the San, where his older brother, John Harvey Kellogg, was physician-in-chief. Will Kellogg was bookkeeper and manager of the world-famous hospital, which put virtually any task outside of medicine under his purview.
"For years he assisted his brother in research aimed at improving the vegetarian diet of the San's patients, especially the search for a digestible bread-substitute by the process of boiling wheat. They never achieved their basic purpose, but stumbled on a major dividend. In 1894, Will Kellogg accidentally left a pot of boiled wheat to stand and become tempered. When it was put through the usual rolling process, each grain of wheat emerged as a large, thin flake. Will persuaded his brother to serve the food in flake form, and it was an immediate favorite among the patients.
"Soon it was being packaged to meet hundreds of mail order requests from persons after they left the San. Because John Kellogg had little interest in such matters, his brother added another task to his long list of responsibilities: that of managing the burgeoning packaged food enterprise. Using his sense of economics, an understanding of marketing techniques and hard work Kellogg constantly increased production, advertising budgets and sales. He expanded his business to Australia in 1924, guided the cereal company through the Depression (the 1930's), he increased advertising, while others cut back, and brought Kellogg's cereal into England in 1938.
<![if !vml]>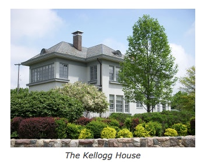 <![endif]>"W.K. Kellogg, who at age 46 founded the Kellogg Company, was never comfortable with his riches. In the 1920s, when many captains of industry were building castle-sized summer "cottages" with 40-car garages, Kellogg lived a comparatively modest life. Even as a millionaire, he resided for years in a two-story stucco house on 256 West Van Buren Street in Battle Creek Michigan.
"As a father, he feared the pitfalls of unearned wealth. None of his children would ever become rich through inherited money. Explaining his tight rein on the family purse, Kellogg once wrote, 'I want that my sons develop into conscientious and truthful men.' As his wealth grew, Kellogg gave generously to charitable causes, many involving children. By establishing the W. K. Kellogg Foundation, W.K. Kellogg sought to focus his philanthropy. In 1934, W.K. Kellogg donated more than $66 million in Kellogg Company stock and other investments to establish the W.K. Kellogg Foundation.
"Kellogg was fiercely competitive, but also quiet, reserved, somber and an introvert. Still, over the years, his support of charitable causes was enormous and varied. He became convinced that the most good could be accomplished by helping young people. So in 1925, he established the Fellowship Corporation. The Fellowship Corporation helped to build an agricultural school and a bird sanctuary, and to establish an experimental farm and a reforestation project. Kellogg also donated nearly $3 million to hometown causes, such as the Ann J. Kellogg School for handicapped children, a civic auditorium, a junior high school, and a youth recreation center.
"President Herbert Hoover named him a delegate at a White House Conference on Child Health and Protection. He returned from the conference determined to help. As a result, in June 1930, the W.K. Kellogg Child Welfare Foundation was born. A few months later, he broadened the focus of the charter, and renamed it the W.K. Kellogg Foundation.
"Through his philanthropic work, Mr. Kellogg demonstrated great compassion and caring and acted on his belief that the most good came from helping people to help themselves--giving them the opportunity to do what is important to them. Kellogg worked at the Foundation until just before his death. His grave in Oak Hill Cemetery, Battle Creek, Michigan, is marked by a simple monument of stone. But his legacy lives on."
Source: http://www.ideafinder.com/history/inventors/kellogg.htm
In 2006, the W. K. Kellogg foundation was listed as the fifth largest foundation in terms of funds invested in the United States, having a value of something over seven billion dollars.
Source: http://www.nytimes.com/imagepages/2006/06/25/business/20060626_BUFFETT_GRAPHIC.html
It is with a great and wonderful sense of blessing to be in a family that included a man of such generous and Godly generosity as did Will Keith Kellogg.
Compiled by
Dwight Albert (D. A.) Sharpe
805 Derting Road East, Aurora, TX 76078-3712