Queen Elizabeth II
Compiled by D. A. Sharpe
<![if !vml]>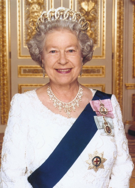 <![endif]><![if !vml]>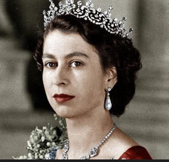 <![endif]>
Elizabeth Alexandra Mary, born April 21, 1926, known to the world as Queen Elizabeth II, is a relative to our family. She is my 33rd cousin, once removed, with our ancestors in common being Eystein Glumra Ivarsson, Jarl of the Uplands (known as "The Noisy"), and his royal wife, Aseda Rognvaldsdatter, ninth century Vikings of Maer, Nord Trondelag, Norway. They are our 32nd and 33rd great grandparents. Elizabeth was born just the year before my sister, Martha de Noailles Sharpe Ehlers, was born. Another description of our relationship is that Queen Elizabeth is the eighth cousin, nine times removed from the husband of the stepdaughter of my sixth great grand uncle, Danette Abney, born about 1712. Many of Danette's descendants settled in Lufkin, Angelina County, Texas.
Upon the death of her father, King George VI, on February 6, 1952, Elizabeth became Queen of the British Commonwealth. It is a group of sixteen independent sovereign states known as the Commonwealth realms. Her coronation as Queen was not until June 2, 1953.
The rule of the longest tenured English monarch has been that of Queen Victoria, who became Queen June 20, 1837 and who ruled for 63 years, 216 days. She died January 22, 1901. Queen Elizabeth II reached the tenured rule time of Queen Victoria on August 22, 2015. She was 89 years old then. Thereafter, Queen Elizabeth is the longest-reigning British monarch in History!
"Queen Elizabeth II spent her girlhood at Windsor Castle as a safe retreat during World War II, and to this day Windsor Castle England holds a special place in the heart of the royal family. She was known to her family as "Lilibet." Though the castle was ravaged by fire in1992, five years of restorations have made Windsor Castle one of Britain's major tourist attractions. Windsor Castle Tours are available throughout the year, though certain sections of the castle are only open during the busiest travel seasons.
The luxurious Semi-State Chambers are only open between September and March, and castle enthusiasts may want to plan around these dates. Additionally, the Windsor Castle changing of the guard takes place throughout the year, but tourists will note that there is more fanfare involved when the Queen is in residence."
Source:http://www.destination360.com/europe/uk/windsor-castle.php
On May 16, 1991, Queen Elizabeth II became the first British monarch to address the United States Congress. At the time that I was witnessing this event in the news, I had not yet learned that she and I are related. Obviously, she had not yet been informed either, as she did not come down to Texas to visit our family while here, nor even gave us a phone call!
Information assembled by
<![if !vml]>

<![endif]>
Dwight Albert (D. A.) Sharpe
805 Derting Road East
Aurora, TX 76078-3712
817-504-6508