A message for men age 18 -26
The United States Selective Service System (SSS) still operates as a Federal Agency in preparedness for the military draft to function if ever Congress activates the draft and the Presidents signs it into law. It is not expected to happen.
However Local Boards comprised of local citizens to oversee any necessary operations. I am one of five citizens comprising the North Texas Local Board (#137), a part of Region II of the SSS. One of my purposes is to help in the publicity about who is required to Register., how to Register, what is the Legislation requiring this, and why a man should Register.
It would be my pleasure and honor to appear at your school or organization to present these matters and to answer questions. If a presence is not what is best, your circulating this digital notice among males about to become age 18 up to age 26 would be good.
Contact me if I may be of help.
<![if !vml]>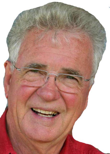 <![endif]>
Cordially
<![if !vml]>

<![endif]>
805 Derting Road East
Aurora, Wise County, Texas 76078-3712
Mr. Carlos M. Perez, Region II Manager
1492 First Street, Building 922, suite 202
Dobbins ARB, Georgia, 30069
770-319-6036