<![if !vml]>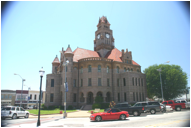 <![endif]> September 4, 2009
Dear Wise County residents:
Our nation seems on a collision course. The answers can be found in Joel 1:14,
"Sanctify a fast,
call a solemn assembly,
gather the elders and
all the inhabitants of the land into the house of the Lord,
and cry unto the Lord."
There is a movement of people seeking to rally around that significant date of infamy, September 11th. When that anniversary occurs this coming Friday, September 11, hundreds of thousands of people are invited to gather at their courthouse at the noon hour. This effort is being led nationally by Awakening America Alliance. Its web site is at www.awakeningamerica.us.
The purpose this Friday will be to pray corporately for a Great Spiritual Awakening among our people.
The Office of the Wise County Judge gave permission to us to invite you and the people of area churches to gather at the Courthouse in Decatur at noon near the southwest entrance of the Courthouse where the flags are flown. I will be present as a coordinator for the event, along with several pastors from area churches. The gathered citizens will be led in public prayer, followed by a few minutes of silent prayer for our nation and its spiritual awaking.
Cordially yours,
<![if !vml]>

<![endif]> <![if !vml]>

<![endif]>
D. A. Sharpe
805 Derting Road East
Aurora, TX 76078-3712
H: 817-638-5560
C: 817-504-6508